The incentives prize for young painters instituted by King Willem III, 150 years ago, is now one of the oldest awards for artists in the Netherlands. The Royal Award for Modern Painting invites painters under 35 years of age to submit their work to be judged and recognised.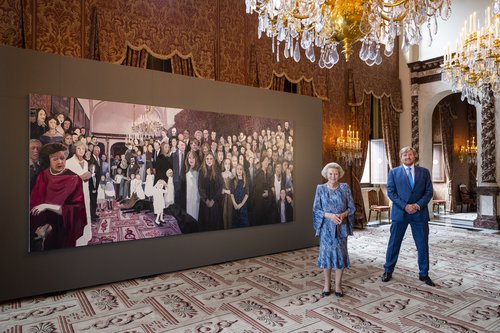 We are celebrating the 150th anniversary with a special exhibition in the galleries and rooms of the palace. Trailblazers celebrates the bold imagination of participants from the rich history of the Royal Award. The exhibition was opened by HM the King and HRH Princess Beatrix on 14 July 2021.
Guest curators Mirjam Westen and Richard Kofi invited seventeen former participants in the Award (1980–2020) to exhibit their work. They are trailblazers, who interrogate, stretch, disrupt and reconstruct the boundaries of painting. Each one approaches form, material, imagination and subject matter in his or her own innovative way. They exemplify the way in which the Award encourages artists to find their own style.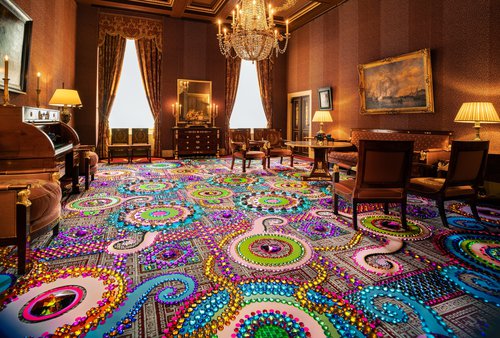 Art sheds light on what has not yet been illuminated. The works have therefore been selected with a view to entering into dialogue with the building: to respond to the architecture, the interior, the history or the present-day function of this important palace. Some of the artists went so far as to create a new work especially for the exhibition. The artworks thus challenge you to see the palace with fresh eyes.
In the accompanying audio guide, you can hear the artists themselves discuss their work and the Award.
Participating artists: Ansuya Blom, Mattijs van den Bosch, Isabel Cordeiro, Suzan Drummen, Esiri Erheriene-Essi, Hadassah Emmerich, Melissa Gordon, Raquel van Haver, Niek Hendrix, Iris Kensmil, Natasja Kensmil, Rabi Koria, Kim van Norren, Navid Nuur, Sara Sejin Chang (Sara van der Heide), Helen Verhoeven and Ina van Zyl.  

Trailblazers is on show at the Royal Palace Amsterdam from 15 July - 3 October 2021.