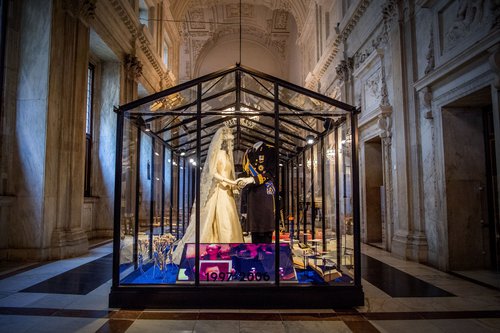 Earlier this year, the King posted a message on the Royal House Facebook page, inviting anyone who shares his birthday to apply to attend the dinner. From the many entries that poured in, 150 guests have been selected by lottery. 
Following the dinner the Royal Palace Amsterdam was opened to the public for 50 hours for free. A special exhibit offered an overview of the last 50 years of Dutch history, with the help of a variety of objects, including those belonging to the King himself, and video from the Netherlands Institute for Sound and Vision. There was also be a number of brief performances at various times. The programme will centre on community life in the Kingdom of the Netherlands.
A festive ceremony on Dam Square marked the official opening of the Palace. King Willem-Alexander and Queen Máxima gathered in front of the Palace with their 150 guests. Members of the public were encouraged to attend. A group photo was taken with all the guests, the King and Queen and the assembled crowd on Dam Square.